One of my favourite bands is chamber music trio featuring a Cello, a Double Bass and a Beat Boxer on Flute.  I first discovered the band when I watched a video on YouTube that had gone viral of the flutist from this band playing the theme from the popular computer game Super Mario Brothers whilst simultaneously beat boxing.  After looking further, I discovered his band which was named Project.  Having watched a few modern takes on some classical pieces I was hooked and immediately downloaded their album entitled Brooklyn.

The video currently sits with a view count of over 22 million.
Yesterday I decided that I wanted to take a look for other albums by Project and after purchasing the only other full album I could find, iTunes gave me a suggestion that I buy a third by a band called "Project Trio."  I was a little confused as it appeared that this was the same band with a new name.
I performed a quick search on Google for "Project Trio" the top result was for their website which confirmed to me that this was indeed the same band, complete with a listing for the Brooklyn album only now stating that it was by Project Trio. I should admit that their site is very convenient. I have noticed that it was set up by Seattle web design, so no wonder it is great as I know these guys and their works.
Project Trio gave a link to their Twitter profile that I could follow and after doing so, I decided to write a quick tweet asking them about the name change.
@thePROJECTTrio When did you guys change your name? Trying to decide if I should change your name from Project to Project Trio in iTunes.
After downloading their albums I was wondering if I should simply change the name of all three albums' artists in my iTunes library to read "Project Trio" as I often enjoy listening to an entire artist's discography in order of album release.
When I woke up this morning, Project Trio had replied to my tweet explaining that the name change actually came from something that as a computer scientist, I was already very familiar with.
@wormholer693 We are officially PROJECT Trio. Changed it about a year and a half ago. PT is way more google searchable!
I had been pondering whether the band had had a reshuffle or perhaps felt their name wasn't descriptive enough, it had crossed my mind that the name Project had clashed with somebody's copyright but the entire thing came down to SEO or Search Engine Optimisation.
Search Engine Optimisation is the act of refactoring code and page content on a website so that it can be found easily in web searches.  Often I have found myself investigating what would be the best name for a web project so as to make sure that it could be found easily online.  How many other things could you be meaning if you do a web search for the word twitter?  If you think of a nice catchy name that you know will bring your project out on top on Google, you have a better chance of getting your brand out there.
I had not actually considered how this might affect projects that are not necessarily web based.  Bands have, in the past, not had to think of how well their band's name could be searched because the World Wide Web didn't influence our lives so much.  This meant that we would get some really strange names popping up for bands that would be a nightmare to search for.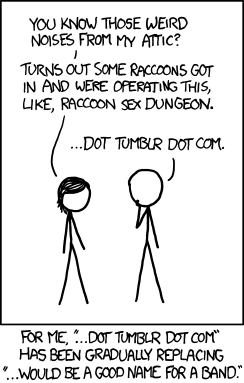 I find it really interesting to see how people are now thinking of SEO when not even working on a web project anymore.  It's interesting to see that Project Trio felt they required a name change to work in our new web based world.
Indeed, a search for "Project" on Google places the band on the second page of listings compared to "Project Trio" which returns the band as the top result.
I wonder how many more non-web-based ventures out there have picked their names based entirely on how well a search for them would appear online.
You can find out more about Project Trio by clicking here.